Stand Rock 2, H.H. Bennett
H.H. Bennett Studio Tour + Dr. Evermor's Forevertron
Saturday, April 22nd | 10:00A
Please join us for a CoPA field trip to the original photo studio of H.H. Bennett in Wisconsin Dells. H.H. Bennett was a photographic pioneer and inventor who opened his studio in the Dells in 1875 and is the oldest operating business in the Wisconsin Dells and is believed to be the oldest continuously operating photography studio in the country.
This historic space showcases Bennett's original photographs, glass plate negatives equipment, photography inventions, cameras, and equipment. We will have a private tour of the studio and its historical photographs.
Following the tour we will venture to Driftless Glen Distillery located in Baraboo, WI for a light lunch and some "spirited" shopping.
We will be making a final stop at Dr. Evermor's Sculpture Park located on Hwy 12, just south of Baraboo, for a photo op. Dr. Evermor's Forevertron sculpture is the largest scrap metal sculpture in the world, standing 50ft high and 120 ft wide weighing 300 tons. Built-in the 1980's, it is housed in Dr. Evermor's Art Park; the sculpture incorporates two Thomas Edison dynamos from the 1880s, lightning rods, high voltage components from a 1920s power plant, and a decontamination chamber from the Apollo 11 spacecraft among many other artifacts.
This portion of the trip is weather permitting, as it is not open unless the temperature is above 50°F.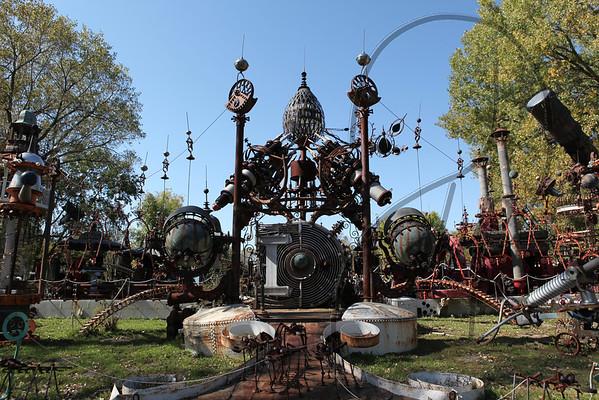 Dr. Evermore's Sculpture Park