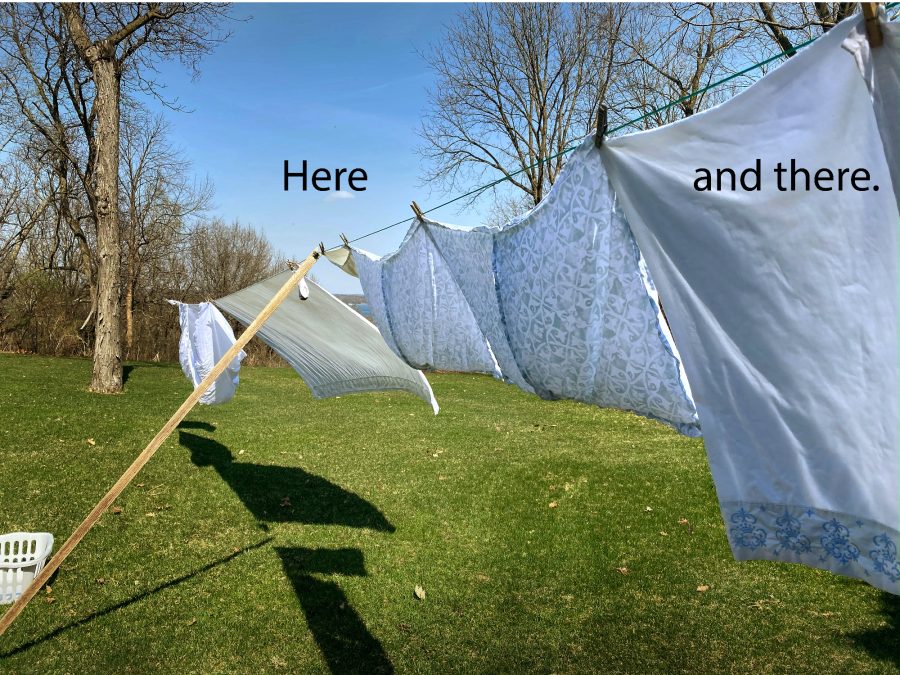 Helen's Day, Pam Ferderbar
2023 ANNUAL CoPA MEMBERS JURIED EXHIBITION:  Here and There
Opening Reception: Friday, March 3 | 5:30P to 8P
Comments and awards  | 6:30P
Friday, March 3, 2023 – Friday, April 7, 2023 | Visit Tuesday through Saturday from 1P – 5P
What is here and what is there? Prior to the pandemic, most people had a clearer understanding. Here was here, where we live, work and play. "There" was a physical target—different GPS coordinates. Now, "where you at?" is as much mental and spiritual as it is about latitude and longitude.
CoPA's 13th Annual Member Exhibition explores the optics of here and there.
Photographers are tasked with making visual representations of the intangible—creating images that ask more questions than they answer. Here and there is a broad concept that can be explored in macro as well as sprawling landscapes. What we have been through and where we are going provide the emotional, spiritual, and creative signposts for this visual journey.
Jurors: Laurie Winters & Chip Duncan
Ms. Winters is the Executive Director | CEO at the Museum of Wisconsin Art. Winters came to MOWA from the Milwaukee Art Museum, where she had served for 16 years in curatorial and administrative roles.
Mr. Duncan is an American filmmaker, author, and photographer, known principally for documentaries on history, current affairs, travel, and natural history.
The Jurors have selected the following four award winners and fifty pieces for this exhibition:
First place | Wendy Andrews Burst
Second Place | Tom Lemke Married to Gravity
Third Place | Asher Imtiaz Venice Beach I
Honorable mention | Martha Coaty Firewall
Andy Holman | Torrent Duck
Asher Imtiaz | Untitled I, Venice Beach I, Promise
Barbara Budish | Ghost Reader
Ben Stuart | Closed Crossing
Bill Ardern | New York Fashion, Eco Flag
Brendan Quirk | How Do I Get There
Carol Starr | Buffalo
Celia Schulz | Votar, Foam Green, Blue Nun
Cindy Hansen | The Happy Housewife
David Bueschel | Relics
Eric Skadson | Meditations 1, Meditations 2, Meditations 3
Erin Maddox | Shattered and Pinned
Guntis Lauzums | Windows of Saint Paul
Jack Kleinman | Not Here III: Auschwitz-Birkenau
Jeffrey Nordholm | Hoan, Boneyard
Kris Gould | Disoriented
Kristine Hinrichs | See Me, Imagine
Lew Cadkin | Stacked
Lynn Roginske | Filigree Dome
Malcolm Woods | Two Doors Down
Mark Wyss | Thermal Pool, Now Boarding
Martha Coaty | Firewall
Michael Nowotny | Trash Pile, Detroit City, Approach
Nicola Ciurro | Wausau Glass
Phyllis Deicher-Ladwig | Looking Ahead, I'll Get You There
Rachel Dickman | Florence at Night
Robert Osborne | Vacant Zahn's Building in Downtown Racine
Robin Bailey | First and Church, 740 Chicago Avenue
Sandra Wyss | VW Bug Ranch
Tom Lemke | Where Time Lies, Married to Gravity, Few Precious Hours
Vicki Reed | Symmetria 63, Symmetria 72, Island of Sighs
Wendy Andrews | Burst